I saw a perfect tip a short while ago on how to store your bedding that was both simple and genious, well i think so anyway :)
i was just flicking through some pictures on pinterest when i came across this little revelation, so simple and yet i dont know of anyone that uses the idea, do you ?
check it out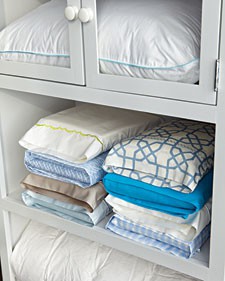 Storing sheets inside the pillowcase. How come I never thought of that?
So i went ahead and purged some old bedding, re folded all my table clothes and rolled up my towels and then applied this method to all of my bedding.
Wow guys, you wouldnt believe the difference in space saving, how neat it is but above all how practical it is, im in love with this idea x